Well…..you can really tell when the season started to get so busy that we began to neglect the website updates. Here is a summary of the whole season with a few picture highlites:
May: Slow as expected, we had 2 good days and several really slow days. May 14th was an unusually good day for that time of year where we got really lucky and found a couple nice kings. This was the biggest one: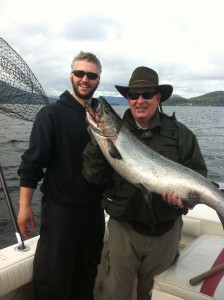 A beautiful King caught on May 14th in Ketchikan
June: King Salmon fishing was just plain WEIRD in 2012. We expect it to be slow until sometime in June when they all show up and then to have a couple weeks of really good fishing; Thats how it's supposed to work. This year, however, it was different. We had a great day followed by a couple slow days, then another great day followed my more slow fishing, it was really frustrating. Our best day of the King Salmon season we hit 3 fish on the morning trip and 5 more on the afternoon trip. Here is the picture from the end of the day: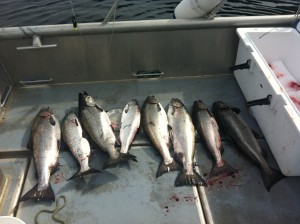 8 King Day In June
We had several kids that caught beautiful King Salmon this season, here are two of the really memorable ones for me: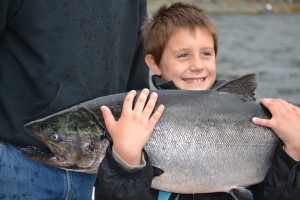 A very happy fishermen with a beautiful King Salmon
This young lady caught this right after I got done telling her that we probably wouldn't catch any King Salmon as it was a little bit too late in the year (shows what I know!):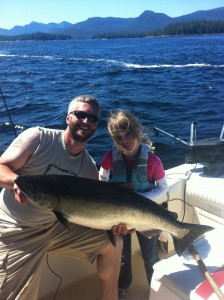 This young lady reeled in this beautiful king salmon all by herself, she did a fabulous job!
July and August: We were happy to have a very healthy Pink Salmon run this year that made for many happy fishermen and lots of dead fish. Although we had a couple of slower days, it was a rare exception and most passengers during this time frame caught about as many fish as they hoped for. The silvers were spotty on most of our 4 hour trips as they didn't come within range of our shorter trips until well into September. On our 6 and 8 hour trips we were able to get out to the halibut grounds and find the silvers as well most days. Here are a few pictures of this time frame: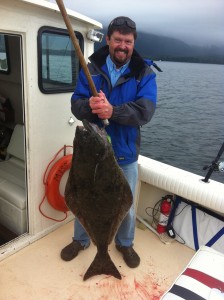 A happy fishermen with a beautiful slot-limit halibut
Lots of fun catching halibut and salmon in Mid-August.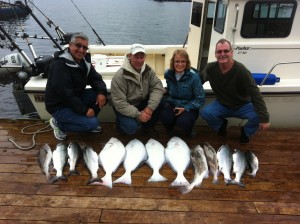 A great day halibut fishing with some bonus salmon as well!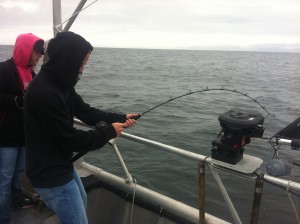 One of the numerous triple digit halibut we caught this summer and had to throw back due to the slot limit restrictions.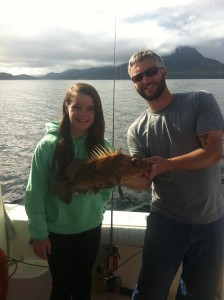 One of the many species of Rockfish that we catch in Ketchikan (they are very tasty!)